Regular price
$37.95
Sale price
$37.95
Unit price
per
Sale
Sold out
Always read the label and follow the directions for use. Read the warnings below before purchase.
Reduce fatigue & support energy levels
Tiredness and fatigue can occur when dietary intake of energy-producing nutrients is inadequate. Energy production is a complex process involving many pathways and key
nutrients, such as iron, vitamin B12 and iodine.

Plant-based diets are becoming more common for ethical and sustainability reasons. Unfortunately, they are often low in iron, vitamin B12 and iodine, and red meat is a major
source of Coenzyme Q10. While the body can synthesise CoQ10, the ability to do so declines with age.
Size: 30 Capsules
View full details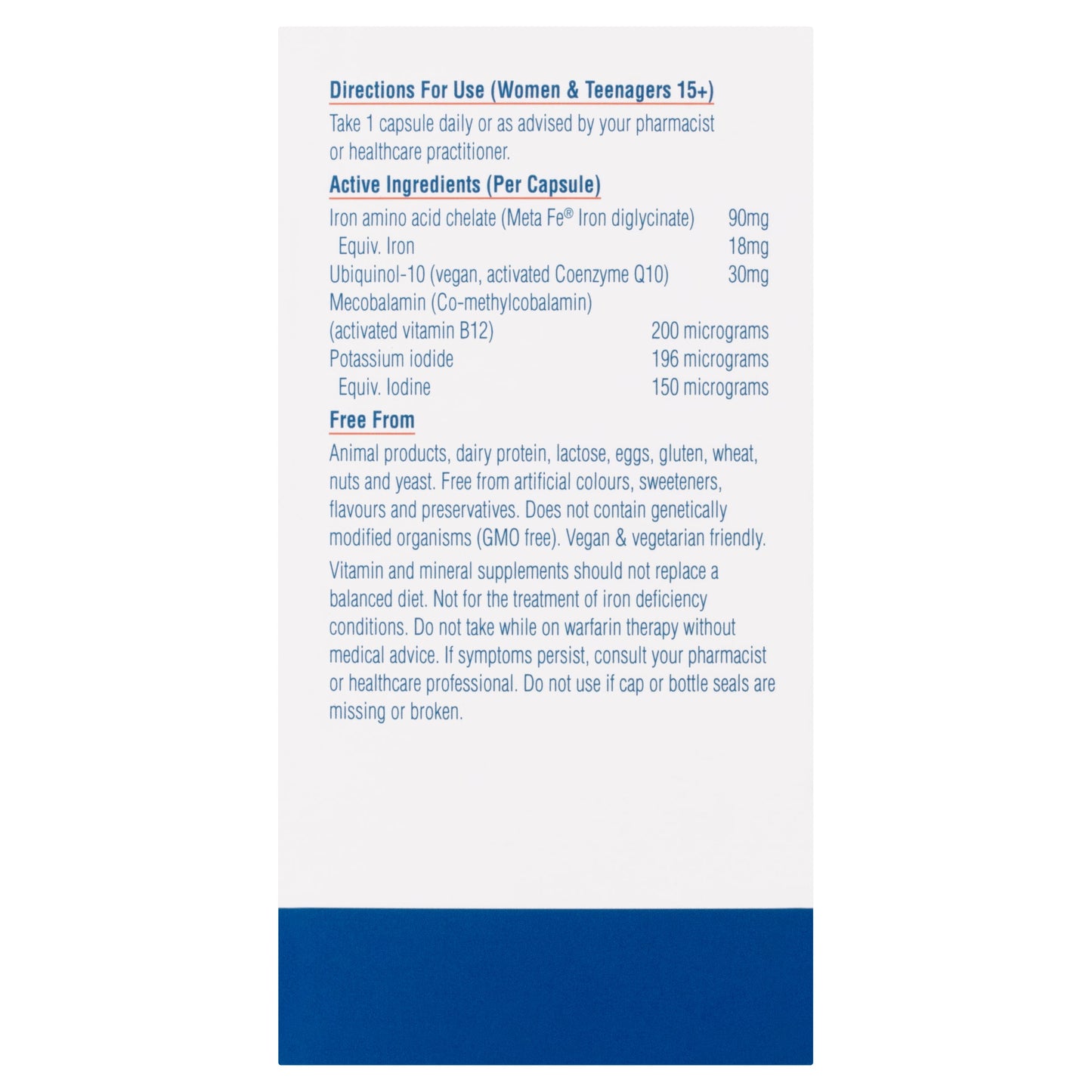 Ingredients
Active Ingredients (Per Capsule) Iron amino acid chelate (Meta Fe® Iron diglycinate) 90mg Equiv. Iron 18mg Ubiquinol-10 (vegan, activated Coenzyme Q10) 30mg Mecobalamin (Co-methylcobalamin) (activated vitamin B12) 200 micrograms Potassium iodide 196 micrograms Equiv. Iodine 150 micrograms
Directions
Women & Teenagers 15+: Take 1 capsule daily or as advised by your pharmacist or healthcare practitioner.
Free from
Animal_products
Dairy_protein
Lactose
Eggs
Gluten
Wheat
Nuts
Yeast
Artificial_colours
Artificial_sweeteners
Artificial_flavours
Preservatives
GMO_Free
Warnings
Vitamin and mineral supplements should not replace a balanced diet. Not for the treatment of iron deficiency conditions. Do not take while on warfarin therapy without medical advice. If symptoms persist, consult your pharmacist or healthcare professional. Do not use if cap or bottle seals are missing or broken.